QuickJumper

& ClassDesign

Automated & controlled InDesign page creation for Display & Classified Ads

QuickJumper is a page layout importer for Adobe InDesign, automating InDesign document creation & ad placement from page plans created in QuickLayout.

ClassDesign is a powerful classified pagination tool that is quick to learn and easy to use.
QuickJumper - Display Ads
InDesign Pages created & ad artwork placed automatically!
Click to view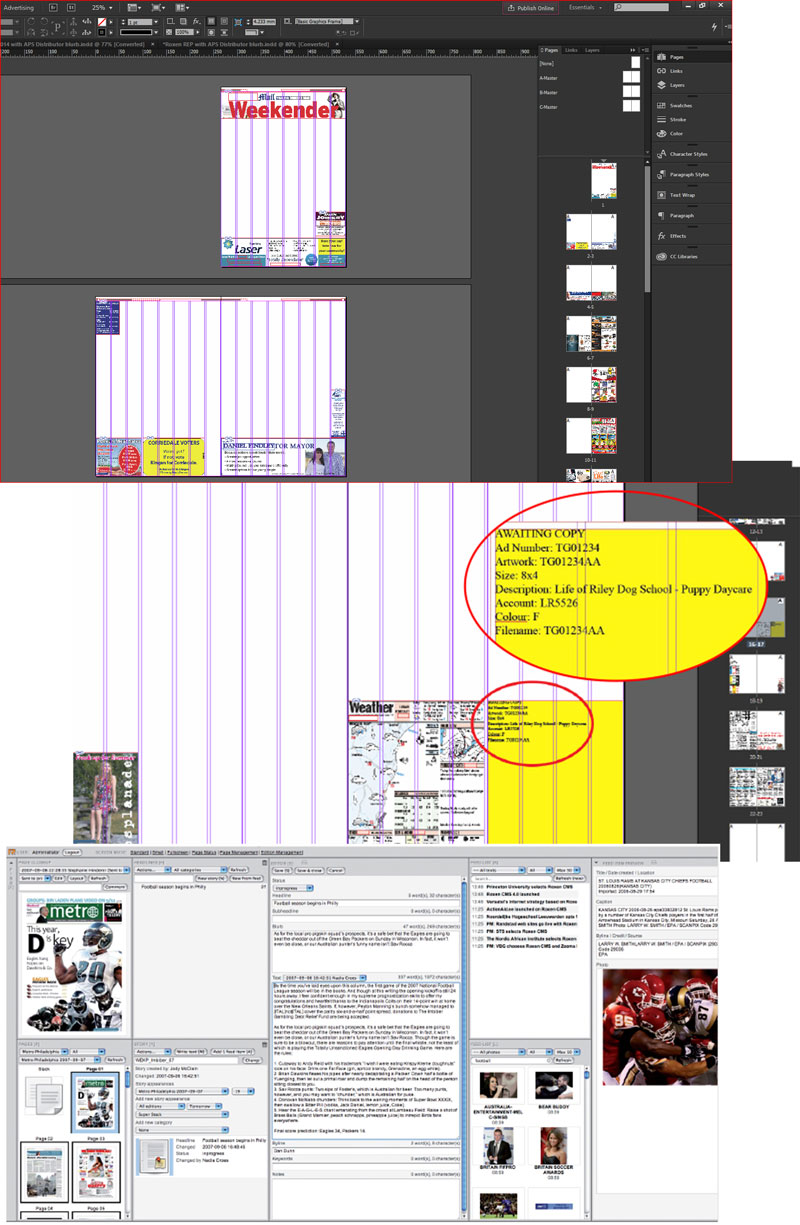 Turn your QuickLayout page plans into InDesign documents with ease
With QuickJumper, your QuickLayout page plans are transformed into InDesign documents in seconds.
Pages are created, ad boxes drawn, rules automatically positioned & finished artwork is placed on demand.
QuickJumper is an absolute time and money saver and will save your business hours of mundane, manual pagination.
All at once or a little bit at a time?
When and how you import your page plans and ad artwork is up to you.
Create the whole publication in one go or by a single section or page at a time - QuickJumper is completely flexible.
Import your ad artwork as you go, or when you're ready. QuickJumper will reserve the missing artwork space so editorial can get on with their job while you're waiting for ad copy to arrive.
Folios, Page Numbers, Edition Dates & Page furniture - QuickJumper handles that too!
Mastheads, Page banners & Newsblocks can be imported on the fly, so no need to waste time placing your page furniture by hand.
Page Numbers, Edition Dates & Special Folios can be generated too.
Seamless integration with Roxen Editorial Portal
InDesign pages from QuickJumper are ingested by Roxen Editorial Portal to create editions that editors and production can view and manage simultaneously.
Late ads and changes are not a worry, production has complete control over all elements of the page every step of the way.
ClassDesign
Simple & effective pagination for Line Ads and Classified Display Ads
Easy to use InDesign Pallet
ClassDesign is an InDesign plug-in, which gives you a straight forward, easy to use InDesign palette from which to place your Classified ads.
Automatic Headers
ClassDesign will automatically place the correctly sized classified headers at the top of each section, or you can add and remove them with a simple click.
Place your ads as you go, or fill in the blanks later on
ClassDesign will automatically place finished classified artwork as you place your section, or you can ask it to fill in when you're done.
Full Control of Line Ad text & PDF's
ClassDesign leaves you with full control of your Classified ads. Text appears as text in InDesign, so last minute fixes on the fly are possible. All PDF elements are individually selectable, editable or removable too.
Vertical Justification is justified!
Need to add a little more space between the ads to fill out the column, or need to place a filler or two? ClassDesign can make it a snap!
Click to view